Fine Art Landscape Photography
Read more about the pricing options for our prints.
Not sure what size will look best in your home or office? Please consider taking advantage of our free Personal Decor Visualizer feature to help you make the perfect choice.
We are pleased to offer matted prints in a variety of sizes. We no longer offer framed prints. The 11" x 14" and 16" x 20" options will fit in any standard frame of that size. A custom frame shop can provide framing for the additional sizes.
For larger sizes, please consider canvas prints, which are stretched on a wooden frame and ready to hang.
All prints are matted using white cotton rag matboard and backed with an archival backing. Because we hinge the prints (rather than mounting them to a board), the print may be re-matted by a custom framer if you want a different mat color. We mat and shrink-wrap all prints, regardless of what the customer may choose to do once it's delivered; this is our way of ensuring that the print leaves our studio in pristine condition and well-protected.
Each image is printed and signed by Steve personally.
We stand behind the quality and integrity of every print and offer an exchange or full refund if you are not completely satisfied with your purchase.
Click here for more information on our photographs and print-making process.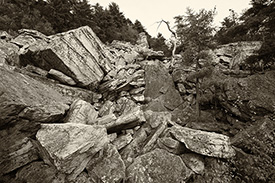 Below Eagle Cliff
View Larger Image | Compare This Print